Although going to the park is still a beloved childhood activity because it is free (unlike an amusement park or an arcade). Playgrounds nowadays have changed significantly since you were a kid. Many traditional favorites, such as merry-go-rounds and monkey bars. Becoming more and more uncommon due to safety concerns.Find out which childhood playground equipment names are vanishing one by one.
Playground Names List
Seesaws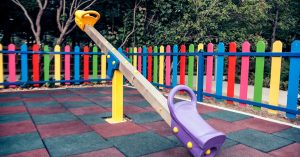 It used to be a childhood tradition to get hit in the head with a seesaw, but that no longer holds true. More than 600 playgrounds in New York City had traditional wooden seesaws. But five years ago there was just one left, according to city park officials. The same situation is occurring across the country as a result of updated federal regulations on playground names list. Defining that seesaws are not as safe for smaller children as other equipment and require significant design adjustments.
Merry-Go-Rounds
Even if you may have great memories of spinning on the merry-go-round till you felt a little queasy. It's unlikely that your children or grandchildren will have the same experience. While some merry-go-rounds can still be seen on older playgrounds, the majority of them have been replaced with safer, less rust-prone replacements. As a result of lawsuits in New Jersey and elsewhere, officials are now too wary to continue using this venerable piece of gear.
Jungle Gyms
Despite the assertions of some experts that they may be a fantastic place for kids to take risks and test their limitations. Parents have campaigned for reforms, federal and manufacturer safety rules have been altered. And the threat of lawsuits resulting from injuries is stronger than ever. These are just a few of the elements at play.
Giant Strides
It was invented at the turn of the 20th century and is known as "the most renowned piece of playground equipment in history." Children would swing themselves around a centre pole while clinging to hanging ropes, chains, or bars that resembled trapezes. Sounds dangerous? Yep. Furthermore, the Consumer Product Safety Commission officially advises against them for use in contemporary playgrounds, making any that do so a very uncommon sight.
Metal Slides
In the past, almost every child was aware that sliding down a metal slide on a hot summer day could result in a terrible burn. Today, the majority of those slides have been abandoned in favour of plastic slides or slides that are at the very least painted with a particular type of heat-reducing paint. But kids should still use caution. Plastic can still become hot enough to result in burns, as the CPSC points out.
Witch's Hat
A witch's hat, which featured a metal platform or wooden seat that you had to step upon while it whirled around a central pole. Wasn't as ubiquitous as a merry-go-round, but it was an exceedingly entertaining way to make yourself queasy. Unfortunately, it was also one of the riskiest playground accessories; according to The Financial Times, there were once five "Witch's Hat" deaths in Britain in a single year. It suffices to say that new playgrounds skip this one.
Sandboxes
After spending an afternoon at the park, many of us spent the summer cleaning sand off of our shoes. They are simply too difficult to keep clean, especially when neighboring cats want to use them as large letterboxes. Which is why San Francisco has outlawed them and officials in other cities are following suit. As much as "2,000 times more germs, yeast, and mold per square inch" than lavatory door handles, according to one study. Ick.
Concrete Surfaces
It's likely that you knew a child who broke a bone after falling on the playground, even if you didn't. After all, you were probably tumbling out of the jungle gym onto a hard surface like blacktop or concrete, or, if you were lucky, dirt. The children of today are landing on much softer ground. 
Monkey Bars
It used to be a big deal for a kid to master the monkey bars; these days, not so much. Monkey bars are slowly disappearing from playgrounds, but they are still more common than many other items on this list. According to a FiveThirtyEight examination of federal statistics, they appear to be a hotspot for injuries, including bone fractures and even traumatic brain injuries like concussions, as reported by Slate.
Rocket Climbers – An Old Playground Equipment Names
When you were a child during the Cold War, it was common to see enormous metal rockets on playgrounds with jutting slides and steps. These old playground equipment names were created with the intention of enthusing children about the space age, but they are genuinely a remnant of another time. Today's remnants are primarily abandoned, rusting wrecks that authorities have discarded for the same reasons they've replaced other ageing metal machinery: the maintenance of plastic is simpler and safer.
Read more interesting articles at blogtrib.com