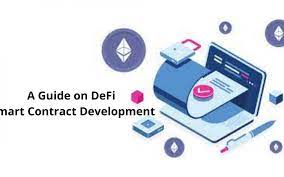 Smart Contract Development for DeFI (decentralized finance) is the process of developing, auditing, and deploying a smart contract that performs decentralized finance services automatically without the need for a central authority. It reduces the time required to complete financial transactions such as lending, investing, insurance, and banking in a decentralized manner.
Many service providers offer smart contract development for decentralized finance services as a stand-alone service, which includes smart contract development and auditing. At Oodles, we have smart contract developers who are experts in creating smart contracts for running decentralized finance-related dapps without vulnerabilities. We create smart contracts on popular blockchain platforms such as TRON, Ethereum, EOS, and others.
Smart Contracts: The Fundamental Building Block of DeFi Protocols
Smart Contracts are what power the Decentralized Finance Ecosystem. There will be no mention of DeFi or dApps until smart contracts implements. Only the use of Smart Contracts permits the use of the term "decentralized" in this context. These smart contracts automate any transaction and eliminate the need for any financial services to be processed by central authorities.
A smart contract is essentially a predefined computer-coded programming contract that inherits the functionalities of decentralized finance protocols. It is the driving force behind the success of the DeFi protocols. To better execute its functions, every DeFi dapp and protocol requires a properly coded and audited smart contract.
Advantages of Smart Contracts in the DeFi Space
The benefits of using smart contracts in the development of decentralized finance applications are detailed below.
Highest Level of Security
Smart contracts are design and audit to ensure that the entire process is secure. As a result, every transaction facilitated by blockchain-powered smart contracts is highly secure and irreversible.
Completely digitized
Fully digital smart contracts are digital contracts that execute automatically and store all transaction details and other information on a decentralized ledger in a digitalized format.
Unrivaled Accuracy
These smart contracts execute automatically and without the need for human intervention, reducing errors and improving the accuracy of DeFi services.
Lightning Quickness
Smart Contracts for speed avoid time-consuming lending, borrowing, and other processes. This online contract automates all financial transactions, resulting in faster processing.
Decentralization
The term uses to describe the process by which Smart Contracts, which are fully decentralized, carry out all functions and transactions and store them in an extremely immutable decentralized network.
Smart Contracts also provide the following benefits:
Extremely stable

Transactions that are extremely fast

Completely decentralized.

Transaction fee reduction.

Complete control over property/assets
Increasing the Importance of Smart Contracts in DeFi Dapps
A smart contract program automates financial transactions while eliminating the need for centralized authority. Furthermore, complete decentralization provides you with increased security. It also provides accelerated financial services. There are no other options for modification. As a result, it prevents fraudulent behavior. Among its other functional advantages are:
Transaction fees reduce.

There is no need for bulk paper storage.

There is plenty of liquidity.

Transparency at its best

Global Asset Exchange Facilitation

Asset Storage and Exchange,
These are the most important reasons why smart contracts are essential for the development of DeFi dapps.
Commonest Use Cases
Smart Contracts can be useful in a variety of industries, including supply chain management, cryptocurrency markets, and banking. There are also some more common use cases, such as cryptocurrency exchanges, borrowing, lending, market predictions for stablecoins, asset management, and so on.
DeFi Projects are Powered by Existing Smart Contracts
DAI Compound Dharma, Bancor, Uniswap, Airswap, Balance Maker, The Hydro Kyber Network, and others are examples of popular decentralized finance-related projects that use Blockchain Smart Contracts.
Also Read: Join The NFT Revolution By Choosing White Label NFT Marketplace
How to Make Your Own DeFi Smart Contract
We are all aware that Decentralized Finance is steadily strengthening its position in the cryptocurrency industry by providing open, permissionless, and easily accessible financial services. Thus, shifting from centralized to decentralized finance will help us better withstand the digital economy. Based on a smart contract and its in-depth understanding, you can create your own DeFi protocol, DeFi dapp, or DeFi platform. Create an error-free DeFi smart contract for your DeFi product, and your DeFi dapp will be able to outperform the competition with no bugs or hacks.
You now have a better understanding of the benefits of smart contracts in the context of Decentralized Finance. If you want to create your own DeFi platform or dapp, you must first create a smart contract with unique functionalities to operate the appropriate DeFi process or service.
Alternatively, find a Reliable Development Partner
If you are a techie with the necessary skills, you can code the smart contract for your DeFi solution on your own and incorporate it into your DeFi product or protocol. Alternatively, you can contact a Defi smart contract development company that specializes in smart contract development for any type of DeFi service.
Suffescom, for example, specializes in developing smart contracts for businesses. They can create apps for decentralized finance, cryptocurrency exchanges, crypto banking, crypto investments, and other services. Suffescom – Defi Development Company offers the most complete solutions for all of your DeFi and DeFi Dapps requirements.