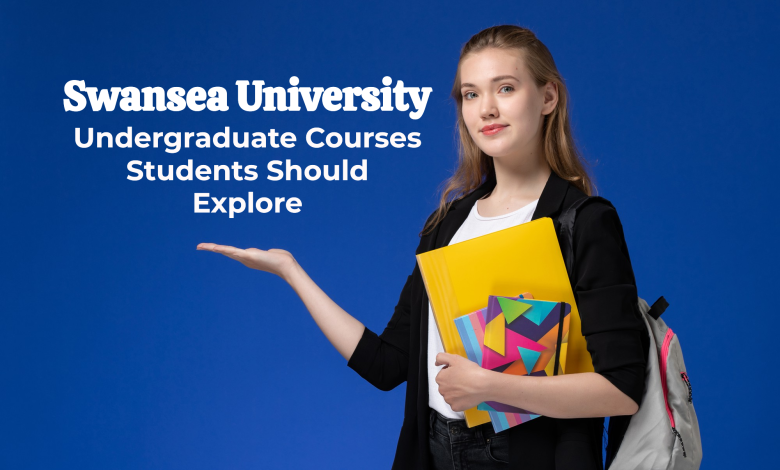 Exploration and discovery are the two essential elements of the academic world, and students should abide by them. Not only students but the staff and other associated parties should pave the way for research, exploration, and discovery in a particular institute. Swansea University is a research-led institute, helping students in research and discovery endeavors since 1920. The institute has established an excellent balance between teaching and research, matched by enviable life quality. This post will reveal undergraduate courses students should explore at Swansea University for a promised career. Keep scrolling to explore further!
Undergraduate courses at Swansea University:
The stunning waterfront Swansea University has always been a desirable spot for students to pursue undergraduate courses. The institute not only offers courses supported by advanced materials and practices but a promised spot in the industry. Why not be a part of this leading institute to make a meaningful difference in the industry? Here is a list of undergraduate courses to explore for an enriched career.
1. BSc Accounting:
The BSc Accounting course is designed with pure accounting algorithms and hacks. It is a pioneering course with practical skills and research-based teaching to give students real-world accounting hacks. Students always dream of being the most sought-after graduate in a particular field, and BSc in accounting is the perfect take for them.
Understanding the varied accounting rules across different organizations is hectic unless you acquire a professional degree. Swansea provides this multi-accredited degree program to local and international students to help them enrich their careers. Graduates in this field can assume the role of:
Accountant or actuary
Banking professional
Finance Analyst
Auditor
With multiple modules and diverse course subjects in this degree, students can learn and understand the dynamism of accounting.
2. Aeronautical and Manufacturing Engineering (Hons):
Mechanical and Aeronautical engineering is probably the most sought-after degree of the century. Swansea University offers this apprenticeship degree in Aeronautical and Manufacturing engineering with a broad-based curriculum. The degree can cover various aspects of Aeronautical and Manufacturing engineering, design materials, and aerodynamics.
The degree is dynamic enough to ensure graduates get advanced interdisciplinary knowledge with the required skills. Since the industry is looking to hire well-qualified and skilled school-leavers, this course could be perfect. Do you want to enroll in this degree to take your career to the next level? Consider calling Education consultants in Pakistan today and start your application process.
3. BSc Biochemistry (Hons):
The field of Biochemistry is not separate from medical sciences, and students should explore it further. Biochemistry will always be there whether you discuss the treatment of diseases, the development of pharmaceuticals, or the relations with our environment. Students can learn the chemical processes within living organisms to understand how cells work and what goes behind a particular disease.
Swansea University offers access to state-of-the-art research labs and facilities to help students across various domains. Moreover, the bioanalytical equipment in this medical school is diverse and includes the following materials:
Liquid chromatography
Gas chromatography
Mass spectrometry
DNA and protein analytical equipment
Computer-based image analyses
4. Applied Business Management:
The new business management center at Northop is the new place for this course. Swansea University offers this program, but Coleg Cambria delivers it. Students in this field will graduate with a solid grounding in contemporary business management, reflecting their theoretical and practical skills. With an in-depth understanding of business issues and landscape, students can grow to be the most sought-after graduates.
Do you want to contribute to the innovative and inclusive future economy? Applied business management is your course. It's high time you contact Education consultants in Pakistan and kickstart your application before the institute writes off the deadline. With Year 1 (Level 4) and Year 2 (Level 5) modules, this course can offer you an extended study period to fill your mind.
5. Applied Software Engineering (BSc):
Applied software engineering is a work-based learning degree where students gain an in-depth analysis of the software game. Swansea University has invested a lot in this course as the most sought-after course in computer science. Employees from regional companies and organizations can enroll in this course to contribute to the organization and economy. The industrial advisory panel has invested ideas to shape this course, which is working perfectly.
Employees in the industry need to fill the skill gaps, and this program could be the perfect therapy. Software engineering is easier than ever, thanks to the innovative academic teaching combined with work-based learning at Swansea.
Enrich your career at a top-notch institute!
Do you dream of contributing to the economy to leave the world a better place? It's time to choose a top-ranked institute to pursue your higher degree. Don't have any idea of how to start? It is good to contact expert education consultants and ask them to guide you on various fronts. Call them today to kickstart your application!
Read more related articles on the blog trib website.