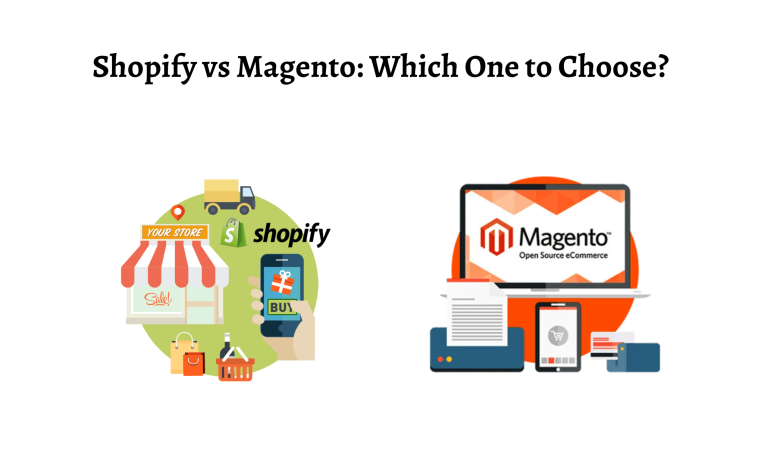 Shopify and Magento are both major eCommerce platforms in the market. If you are thinking of eCommerce website development for your business, you will always find these two names on the list of popular eCommerce platforms.
Due to their wide use, you can easily find a Shopify development company or Magento development company for your website development. But before opting for services, you first have to choose one from Shopify and Magento.
Both are the leading players and have their own benefits and limitations. So, it is not a cakewalk to pick the right one. Read this blog post to know a comparison between both platforms and make the right choice as per your website development project requirements.
Let's first see a slight overview of Shopify and Magento before directly moving to comparison.
What is Shopify?
Shopify is an all-in-one eCommerce website development platform that comes with robust features to start, manage, and grow your online store. This user-friendly platform makes it easy to run an online store for your business. 
What is Magento?
Magento is an open-source eCommerce platform. It is also used for developing compelling eCommerce websites. Various Magento development companies use this eCommerce platform to empower a wide range of brands to grow rapidly.
Now, after the brief overview of both platforms, let's understand which one will be best to consider. We are distinguishing them based on some influencing aspects like cost, objectives, and others. So, choose the platform by considering the factor that matters most to you.
Shopify vs Magento: Cost 
Cost is undoubtedly a major concern for every business owner. Shopify is not a free-to-use platform. It comes with three pricing plans from basic to advanced levels. Every plan comes with unique functionalities. So, you can pay and choose a plan as per your needs to use Shopify.
In contrast, Magento is open-source and does not require monthly subscription fees. You can download, install, and set it up without employing any cost.
Shopify vs Magento: Availability of Themes
Another major factor after cost is the forefront view of the online store. It majorly depends on choosing a suitable theme.
Shopify offers plenty of mobile-responsive themes that can provide an awesome look to your online store when displayed on mobile or tablet. It includes free as well as paid options. Therefore, to have a mesmerizing view of your storefront, you will have to pay for a compelling theme.
On the other hand, Magento also offers a variety of responsive themes. And with Magento eCommerce website development, you have the option to customize the theme as per your needs. But you will have to be tech-savvy for the same. Otherwise, you can invest in custom Magento development services to serve your purpose.
Shopify vs Magento: Ease of Use
No matter whether you are less or more technical, you can use Shopify to develop a website. It is an easy-to-use platform that comes with extensive features.
Magento is not as easy-to-use as Shopify. It requires you to have comprehensive knowledge to make use of this eCommerce platform.
Shopify vs Magento: Payment Processors
Shopify supports 100+ payment gateways and also offers its own, i.e., 'Shopify Payments'. Using it will let you charge zero transaction fees. Moreover, for a seamless payment gateway integration, you can also leverage Shopify development services by hiring a competent Shopify professional.
Like Shopify, Magento does not offer its own payment gateway but supports 150+ payment gateways.
If you are still in a dilemma to choose between Shopify and Magento, you must read Shopify vs Magento: Which One Is The Best? for a far better comparison.
Conclusion
So, both platforms have the capabilities to create a robust online storefront for a business. It entirely depends on your project requirements and business standards to choose a reliable one.
Keeping your needs aside, selecting one from Shopify development services or Magento development services will not be possible.
Read more:
How to Choose the Best eCommerce Website Development Company?