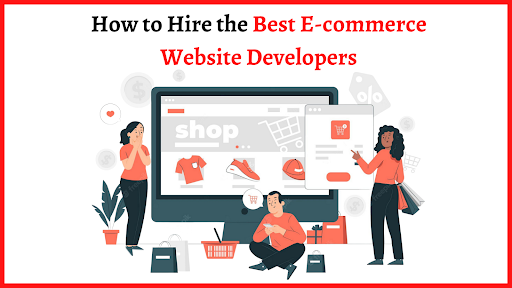 Online presence is essential for businesses today. Every mom-and-pop wants a large client base and to reach as many customers as possible. They can achieve this easily with an eCommerce website.
Your online storefront is the only way your visitors can identify your brand and establish a connection with your business. For this reason, you need to make great efforts to describe your e-store and products as well as you can.
In short, you need a smooth, well-designed, and convenient website, and professional eCommerce website developers can take you there. Finding developers who can perfectly handle your requirements can get difficult, however, because there are numerous eCommerce development companies.
This blog explains some useful steps to help you hire the perfect eCommerce developers for your project.
Hiring Professional eCommerce Website Developers The Right Way
Follow these steps to ensure the right selection of eCommerce web development services for your online store:
Determine Your Requirements
The first thing to do is understand your project's requirements and prepare a list. This will enable you to communicate those requirements to the developers or consultants.
At the same time, you have to know what you want to hire an eCommerce development company for. If you aren't certain about what you need from such a company, here's what you have to do:
Decide what you want to accomplish with your website

Note the main features that you want your website to have

Eliminate features and options you don't need

Set a budget
Decide the Platform For Your E-Store
You will have to pick a Content Management System for your website. Choose carefully because your choice will determine how well the project goes and ensure a successful launch.
If you're confused regarding the right CMS for your project, you can seek the advice of professional eCommerce website developers. They will recommend the best CMS that will match your eCommerce business needs.
Analyze Their Portfolio, Experience, and Expertise
As you begin searching for eCommerce web development companies, it is important to know about their market presence and experience. The time an eCommerce web design company has been in business shows its worth to a great extent.
Therefore, if you want to know whether a company can handle your project well, visiting its website is significant. Almost every development company has its portfolio and services on its website.
Go Through Developer Testimonials and Reviews
Reading a company's testimonial section is a good way to get a better understanding of the company's profile, along with the opinions of its customers. These will show the company's credibility and what their clients think about their work.
You can also assess their relevant experience by looking at their portfolio. On the other hand, a review will show if the developer's design patterns will match your expectations. Look for experience in companies that comes as close to your idea as possible.
To Conclude
The abovementioned tips will help you find the most suitable eCommerce website developers in the market. The developers, in turn, will incorporate useful website features for a significant conversion boost.
This is how you can get results that are aligned with your goals: getting a website that matches your business needs through a streamlined process.