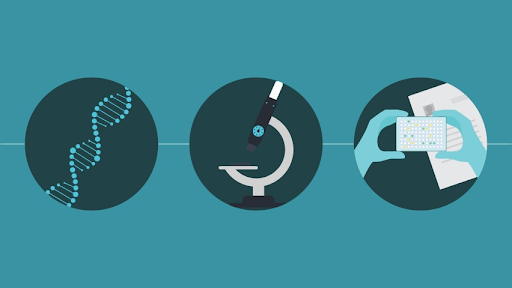 On your journey to conception try, both of you decide to see a doctor at the best IVF clinic. And the doctor may ask you, your spouse, or both of you to have a few medical tests and screenings before or after your pregnancy. These tests might be daunting for you. However, these tests will ensure you that your child is well and getting each thing right. Have a look at all the associated points here: 
What is genetic testing for pregnancy? 
Carrier testing, the earliest stage of genetic testing, refers to a process that examines blood or saliva of couples willing to be parents to detect genetic abnormalities in their DNA. Doctors recommend these tests before pregnancy to determine where the parents will pass their affected genes to their child or not. Some people with abnormal genes have no visible symptoms. And hence, they are probable carriers of the disorder. The test is helpful to detect the issue.  
Doctors recommend genetic screening during pregnancy to know whether the child has any abnormal genes or not. To conduct the test, experts can recommend you to have ultrasound imaging, blood tests from the mother, blood tests from the baby, and samples from the amniotic fluid or placenta. As per your convenience, you can do these tests at home using at-home test kits. However, you need to consult the doctor to comprehend the test results. 
Most common genetic disorders
With technical advancement, the capabilities of genetic screenings are improving. The tests can easily detect the abnormalities and common or rare genetic disorders. Here are some common genetic disorders:
Cystic Fibrosis

– It causes digestive problems and lung damage. Sometimes, it can be life-threatening

Fragile X Syndrome

– It can cause developmental problems such as mental retardation and learning disabilities 

Sickle Cell Disease

– It can lead to a weakened immune system, anaemia, and other health issues

Spinal Muscular Atrophy

– It affects part of the nervous system responsible for controlling voluntary muscle movement

Thalassemia

– As a blood disorder, it can cause anaemia, liver issues, and bone growth problems 

Tay-Sachs Disease

– It is a life-threatening disorder of the central nervous system
Who should get the genetic testing?
You may have a query, Should you do genetic testing before pregnancy? It's simple answer is yes if your ethic background or family genetic history is suspicious. You must have the genetic test before or during testing if your family members have already gone through it. In addition, you should opt for it if you belong to any one of the following ethnic groups: 
African American

Ashkenazi Jewish

European Caucasian

French Canadian

Mediterranean

Southeast Asian
How the test is done
For the genetic testing, experts at a pathology lab take out blood from your arm as a sample. They can take hair or tissue samples. In the case of pregnancy, the experts will take tissue from the placenta or amniotic fluid as samples. 
What are the types of genetic testing?
Here are some common genetic testings that doctors can recommend you:
Diagnostic testing 

Predictive and presymptomatic testing

Carrier testing

Prenatal testing

Newborn screening

Preimplantation testing
What to expect about the testing?
The probable testing results are as follows:
Neither you or your spouse can be the carrier 

Your baby will have no issue if you or your spouse is the carrier 

Your baby has only 25% chances of having genetic issues if both of you are the carrier  
Pros of the genetic testing 
The test provides valuable insights of the future baby. It is a short test. Here are some advantages of this test:
Finds unknown problems

Provides answers about the medical history of your family members 

The test is easy 
Cons of genetic testing
Results might be incorrect 

You have always no idea about the effect of genes on your baby 

Test before pregnancy can make you reconsider your family expansion plan 

It might increase your stress 
Should you get the genetic testing during and after pregnancy?
It totally depends on you. If you decide the genetic testing is right for you, get it done before or during your pregnancy. After the delivery, you must get it done for your baby if you notice anything wrong or abnormal. The test will help you detect and treat the issue. 
Conclusion 
A genetic test is beneficial for a couple to know the health of their future baby. Having an idea about the test, its pros & cons, expectations from the test, probable suspects, and allied points can help you decide whether you should have this test or not.