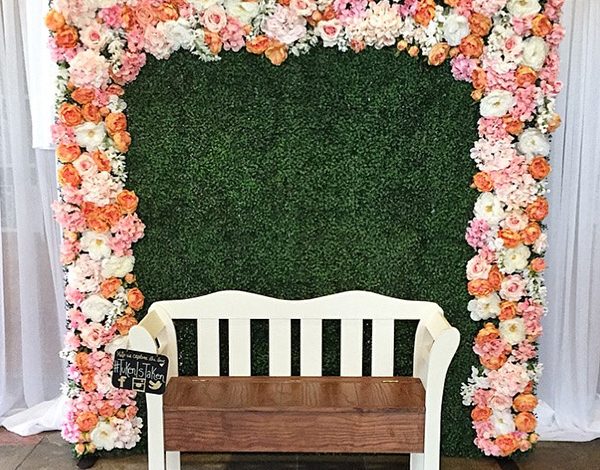 When it comes to wedding planning, one of the most fun and exciting tasks is creating a photos booth and photo booth props for the bridal shower! This is a great way to capture memories of the bride and her friends having a good time.
There are many different ways to create a photo booth, so we have created some creative ideas that will inspire you. Whether you want something traditional or quirky and unique, we have you covered!
Choosing the Right Photo Booth
Choosing a photo booth for your Bridal Shower is very important so, consider the following factors:
       

How many people will be using the booth at once

       

What type of props and backdrops are available

       

If you want instant prints or digital copies

       

How much storage space is needed for the photos taken in the booth
Photo Booth Props
Props are always a popular addition to photo booths, and they provide the perfect opportunity for guests to let their creative side shine! You can find props at party stores or online or even make your own using things like cardboard boxes and paint. Here are some fun props that we love:
       

Funny glasses/hats/mustaches

       

Feather boas

       

Signs (e.g., "I do," "Just married," etc.)

       

Picture frames

       

Balloons

       

Flowers
Photo Booth Games
Games are a great way to keep guests entertained and make sure everyone gets a chance to take some fun photos! Here are some ideas for photo booth games:
The classic "guess who?" game – have guests write down the names of their friends or family members on pieces of paper, then put them in a hat or bowl. Guests take turns drawing a name from the bowl and trying to guess who the person is based on their photo.
Scavenger hunt – give guests a list of items or photos to find in their photos from the booth.
props race – set up a few different photo stations with fun props and have guests race to see who can take the funniest photo!
Photo Booth Backdrops
There are many great ways to add some extra fun to your photo booth using backdrops! Here are a few ideas:
       

Themed backdrops (e.g., beach, carnival, etc.)

       

Fabric backdrops in bright colors or patterns

       

String lights for a cozy atmosphere

       

Quotes or phrases printed on large pieces of paper or canvas and hung as backdrops
Photo Booth Fun Extras
In addition to props and backdrops, there are a few other fun things you can add to your photo booth for extra excitement! Here are a few ideas:
Polaroids – provide guests with instant prints of their photos
Photo strips or frames – print out strips of photos or put them in frames for guests to take home
Digital copies – send guests links to download their digital copies after the party is over
Photo Booth Favors
Photo booth favors are a great way to thank guests for their participation in the photo booth and to help them remember the fun they had! Here are a few ideas:
       

Custom stickers or buttons with photos of the guest of honor and bride and groom

       

Magnets with photos of the guest of honor and bride and groom

       

Keychains with photos of the guest of honor and bride and groom

       

Lip balm ornaments with photos of the guest of honor and bride and groom

       

Photo booth book – a bound album of all the photos taken in the photo booth
Using Hashtag In Photo Booth
Hashtags are a great way to keep track of all the photos from your bridal shower, and they can also be a lot of fun. Have everyone write their hashtag on a piece of paper or their phone before they go into the photo booth. This will make it easy to find all the pics later!
Some Ideas for Hashtags:
       

#bridalshower

       

#jenandbrian2018

       

#bestdayever

       

#marriedinstyle
Putting Photo Booth On Social Media
If you're planning on having your photo booth at your bridal shower, be sure to post about it on social media! This is a great way to get everyone excited and ensure that as many people as possible show up. You can even create a unique hashtag for your event.
Here are some ideas for social media posts:
"Who's ready for some fun in the photo booth at my bridal shower?!"
"The countdown to the big day has begun! Join me at my bridal shower for lots of laughs and memories."
"Getting excited for my bridal shower this weekend! Can't wait to see all of you there!"
Conclusion
A photo booth is a great way to capture memories from your bridal shower. Be sure to have lots of props and fun backgrounds available for your guests to use. And don't forget to post about it on social media! You'll be sure to get everyone excited for the big day.