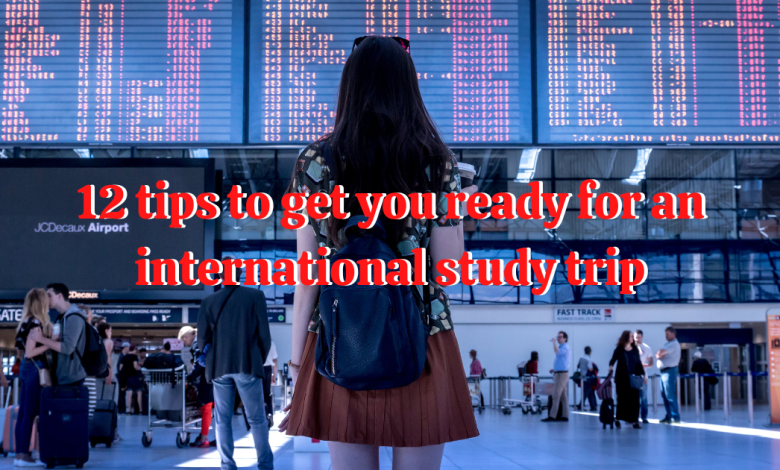 Studying abroad is a life-changing experience. Period. However, you must first prepare to travel to another nation, and that preparation goes beyond simply getting your passport and luggage packed. Only then can you become fluent in the language of your choosing, immerse yourself in the culture, and create experiences that will last a lifetime.
Tips for an international study tour
1. Calculate the finances
Make sure you have enough cash on hand to cover the cost of the trip, as well as any expenses you may incur while you are there, before taking any further action. Generally speaking, you'll spend more money than you anticipate. Typically, it's preferable to have some small-denomination cash on hand as well as a credit card for larger purchases and longer journeys. Informing the credit card company of your destination and length of stay will prevent them from blocking your card once you begin your shopping binge.
2. Plan an airport shuttle
Allow your study abroad advisor to arrange the transfer from the airport to the apartment or the school if you want to simplify your life. If you prefer to use public transportation or locate your own driver, make sure to thoroughly investigate your alternatives in advance and download the required applications. This will save you a tonne of time and effort, especially after a long journey. When you're all set up at your location, keep in mind that you'll also require transportation to the airport before your flight.
3. Address any necessary insurance
Make use of your study abroad adviser's expertise and have a conversation with them about travel insurance. Additionally, you should contact your health insurance company to check if they have any special offers that will cover you while you are traveling.
4. Copies of crucial documents
Have both digital and paper copies of all of your key documents, such as your passport, insurance information, and credit card company information, and store them in various locations. It's ideal to carry both a paper copy and a digital copy with you at all times. Leave a copy at home with your family or friends. The digital copy should be kept in a location that is secure yet convenient, such as your email inbox or a cloud server.
Also – read this
5. Research your vacation rental
The nicest part of planning a trip is probably learning about your destination and what you can do and see there. To find out what your new home away from home has to offer, you may either purchase travel guides or simply google away. Getting a general understanding beforehand might help you organize any tours and excursions to make the most of your time abroad, even if it will be much more entertaining to look at in person. Don't forget to read up on any traditions, practices, and habits that will help you quickly feel at home.
6. Pack (obviously!)
First, make sure you are aware of the airline's size and weight restrictions. After that, read our blog entries to make packing simple. The best items to include in your carry-on suitcase are necessities, an adapter, and a change of clothes in case your luggage is delayed. Only pack travel-size containers if you plan to remain somewhere for more than a few days and only use them for the first shower after you arrive. Once everything has been packed, be sure to label everything with a name.
7. Learn a few words in the language of the area
It's probably safe to presume that you're going to study a language abroad since you're reading this on our site. But why not do some advance planning? If you're accustomed to the new language's sounds and even know a few basic phrases in it, traveling will be a lot simpler. 
8. Obtain any required prescriptions
Make sure you either bring enough for the entire trip or a prescription that you can fill overseas if you usually need prescription medication or contact lenses. (Confirm the coverage with your insurance.)
9. Jot down significant numbers
We barely ever recall phone numbers or passwords in the era of mobile phones. You might need a new phone if you travel abroad, or you might need to sign in to the school computer: Make sure you have a few key phone numbers and passwords (or password hints) written down or memorized so you can call and log in without getting stressed.
10. Determine your mobile plan
Getting a SIM card at your location is worthwhile, depending on how long you'll be traveling. To avoid receiving a hefty phone bill once you return, ask your cell phone operator about roaming fees and data plans before you leave. There are many locations where you can obtain (free) Wi-Fi, including schools, homes, and potentially even public spaces. However, it might be convenient to also have a way to be reachable when you are not close to a hotspot.
11. Say hello to your hosts
If you have the contact information for the host family or roommates you'll be staying with: Before you leave, introduce yourself! Saying hello will be a great gesture because they'll probably be just as intrigued about you as you are about them. Everyone enjoys receiving gifts, so why not get some extra points by giving them a small memento from your native country that will also serve as the ideal icebreaker? For those of you staying with a host family while traveling, here are some extra pointers.
12. Feel excited!!
Before you travel to study abroad, there are a lot of things to consider and complete, especially if it is your first trip. No matter how many times you pack and unpack your suitcase, never forget to remain enthusiastic about the fantastic journey you are going to have. Happy dances were made for just such occasions.
We genuinely hope that after reading this blog, you all learned a lot and are now all set to go. En özel ve reel kızlar Olgun Escortlar İkitelli Bayan Neslihan | İstanbul Escort Bayan sizleri bu platformda bekliyor. However, there are lots of study abroad consultants who would be pleased to assist you with matters like obtaining a visa and obtaining a passport if you experience any kind of confusion or difficulty. They might also assist you with interview and exam preparation. Therefore, you have an option because sometimes it can be really tedious to get ready for an international study. You are now fully equipped with all the hints and advice. Wishing you luck for the future!! 🙂