Banking and Finance
10 Insider Tips to Becoming a Good Financial Advisor
Follow These 10 Tips to Become a Competent Financial Advisor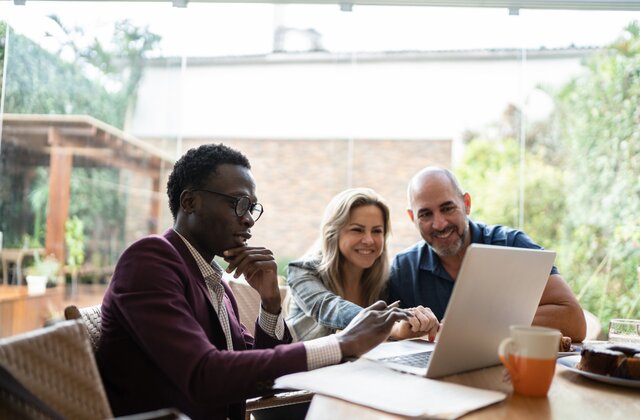 A career as a corporate financial advisor can be satisfying and rewarding for those who can persevere. Becoming a financial advisor can be the initiation to a fruitful future. It is a field unique for the marriage of working with both people and numbers. But while financially enriching, becoming a financial advisor is not an operationally convenient path. As Brain Stivers, the successful investment advisor and founder of Stivers Financial Services, mentions, "For those who succeed, a financial advisor's job is physically, spiritually, financially, and emotionally pleasing.
And according to the success statistics, only those who succeed who consciously decide that failure is not an option from day one. If you choose to see success initially and throughout, this article is for you. Follow this seven-step process to have a booming career as a financial advisor.
Hone the right skills
The proper educational certifications can only take you so far as a financial advisor. But to make it to a successful position in the field, you must carry a specific skill set. Various characteristics are necessary for becoming a competent financial advisor, including critical thinking, analytical skills, and impeccable interaction skills. In addition, you must have a good grasp of ways to market your abilities to the correct clients.
Working on your networking skills and practicing a blend of aggression and calculation are two skills you can consider structuring as trustworthy personnel with client-centred service.
Complete training and internship programs
Internship programs give you hands-on experience on what goes on in the financial field. Therefore, it is beneficial to participate in internship programs with renowned firms while catching up on your academics to apply your learnings in a practical setting.
Not just for the practical experience, but internships also open ways for networking and finding the right financial advisor mentor who will give you insider tips on sustaining your career. You can also juggle various training programs after your internship to further polish your abilities before seeing the real deal. It will surprise you how much exposure an internship program can give you.
Practice good interaction
Effective communication requires both speaking and listening. You can easily get caught up in proving your knowledge, showing your experience, or reciting your sales pitch. Most clients will already presume that you are an expert. So, pay heed to more listening than giving voices. When you spend more on listening and asking questions through, the conversation can later transition into a discussion about your fees and services.
Utilise marketing opportunities
Various channels for sales may aid you in optimizing your exposure better. Additionally, you can benefit from social media, use printed materials like flyers and business cards, or employ a marketing professional. Sharing your valuable knowledge and philosophy through videos, articles, and blogs may motivate clients to come to you for more data and your services.
Track progress
Measuring your activity as a new financial advisor can help you notice in-demand patterns and trends. However, rather than only measuring results, it is helpful to measure your progress to track your conversation rates. Some things to check on might be the number of meetings you fix with your clients, onetime clients, kept clients, meetings with professionals, and the average revenue for every client.
Understand the responsibilities
On the surface, the job of a financial advisor may seem simply like giving financial advice. Still, the job description is much more complicated than it looks. Therefore, you must understand the job responsibilities in depth to become a market sensation. Researching your duties as a financial advisor in a specific agency or how your clients want to use corporate finance assignment help you sustain yourself in the game. Every day is different for financial advisors because if you are not preparing for a client meeting, you are prepping for marketing or monitoring accounts. In addition, you are shifting between roles as the requirements of your client change. So, you must know your list of responsibilities inside out.
Seek peer reviews
When you start your career as a financial advisor, it can aid you to have a peer reviewer. You can ask a trusted co-worker or a mentor to review your plans as an advisor on how you wish to succeed in the field. There are peer reviewers for hire that you can search for over the Internet. These people are professionals who possess enough knowledge to give you some constructive feedback on ways you should work as a financial advisor and how you can improve. A peer review of your work may also help you save time, build your skills, and detect your mistakes. In addition, you can feel confident presenting your work to clients knowing that someone with adequate knowledge in the field has already reviewed it.
Create a celebration folder
Set aside a folder and use it to gather your wins. Your folder might include:
A thank-you note
Positive feedback from clients
Other big moments you consider a success for your business
On a rough day, pull out the celebration folder and look at the fantastic thing you have accomplished in your career.
Volunteer locally
If you can do volunteer work, you have an added advantage regarding the reputation and community you serve. Some ways to get involved include volunteering or pro-bono events, the local library, or your local financial planning association chapter. If you have trouble finding local opportunities, virtual meetings are also a good option.
Do not overlook higher education opportunities
There is always some room for more learning, especially in finance. If you wish to guarantee yourself a skyrocketing career as a financial advisor, do not miss a single chance of continuing your education. You can always find something you have not heard or experienced in your academic days. Therefore, looking for higher education chances such as advanced certifications to finance assignment help you keep updated worth recent trends and methods. A financial advisor's worth is measured in their ability to make sound financial decisions. So, keep fuelling your ability with extended education.
In conclusion,
According to some studies by researchers, financial consulting is expected to grow by 27% in the upcoming years. This means that it is high time to work your way towards becoming a successful financial advisor if that is your career ambition. A blend of the right skills and educational background will set you in the correct direction where you can market your abilities and benefit from every opportunity. And the best financial advice are given by individualists who exhibit confidence and who know the whole kit and caboodle of finances. So, get to it and start giving fruitful advice.